Forklift Pedestrian Safety
A Comprehensive Forklift Pedestrian Safety Solution that Monitors Everything and Prevents Accidents
Forklift Pedestrian Safety is a Priority on Lift Trucks
Increasing forklift pedestrian safety without compromising productivity and speed are two key goals of any plant or facility EHS manager.
EHS Managers are constantly searching for and evaluating forklift pedestrian safety solutions in order to keep workers as safe as possible, even when the lift truck operator makes a mistake or a pedestrian comes out of nowhere. 
SIERA.AI Pedestrian Detection System (PDS) is where you want to start.
– What customers have to say –
SIERA.AI has given us the control we need to ensure our lift trucks are OSHA compliant and running efficiently.
– J. Davis, EHS Leader
Forklift pedestrian collision avoidance system with partial and full detection, even behind boxes, while you bend or reach. The safety system notifies the operator with visual and audio warning.
Full & Partial
Pedestrian 
Detection
Full View – Bending – Stooping – Crawling – Hidden Partially Behind an Object with Audio & Visual Cues
Identify What's in Your Path – Object – Racking – Box – Customer Product with Audio & Flashing Alert
Pedestrian Crossing on Any Lift Truck
Information is power. It's the only and best way to make safety decisions that's in the best interest of the operators, workers and the company. The S3 with collision avoidance, alerts the operator of any unsafe situations while constantly collecting and reporting valuable data for you. Here's how it works.
Pedestrian proximity monitoring constantly detect objects and pedestrians around the forklift. A perfect solution for forklift pedestrian safety on any of your LP, gas and electric lift trucks. The SIERA.AI Safety System S3 monitors and tracks any obstructions such as pedestrians, facility infrastructure and product by scanning in real-time. When anything occurs within a defined space or distance, an audible and visual alert will proactively notify the operator and record the incident.
This will allow you to make critical decisions on modifications within the facility or training for the driver. Our S3 Safety System delivers what you need to keep your facility running as safely.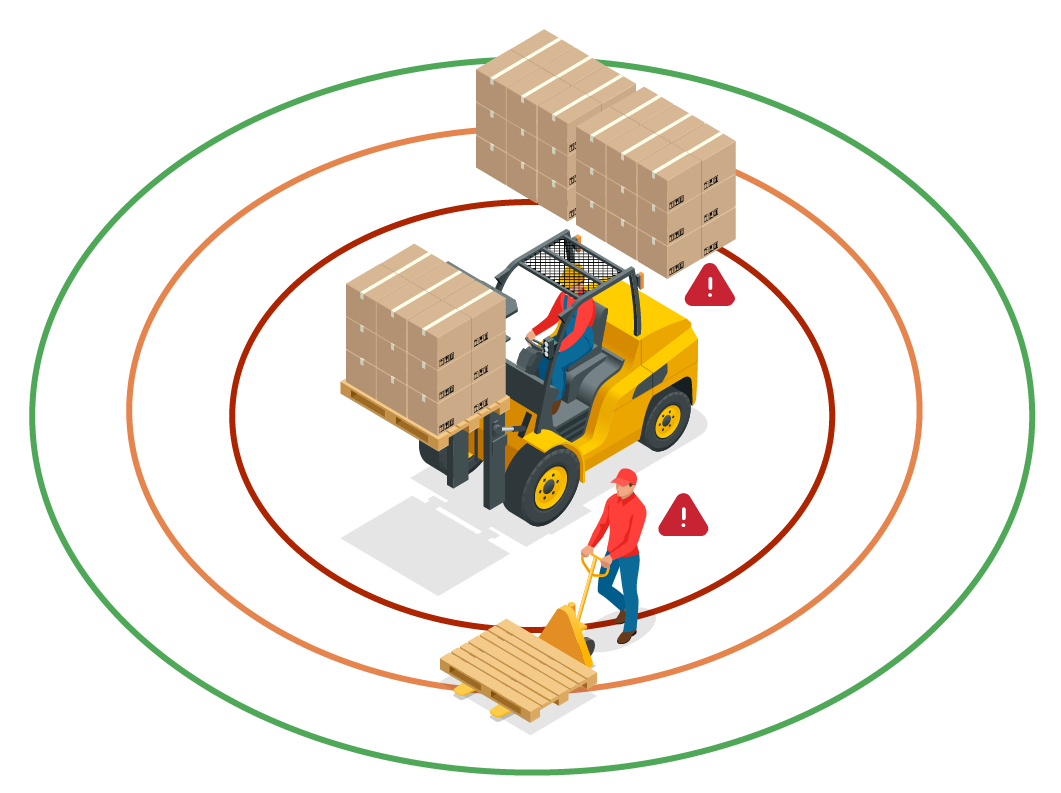 Forklift Pedestrian Safety on any Gas, Electric, LP Vehicle
Capture Critical Information for Elevated Decision Making
Capture critical information and track patterns on all safety incidents. Get data such as:
Forklift Impacts – Record low, medium and high forklift impacts
Near Misses – Find out what 'almost' happened. SIERA.AI tracked over 1.1 million close calls or 'almost' accidents at our customer worksites.
Real-Time Notifications – Get notified of any forklift failures, high or medium impacts, and near hits for anyone needing notification. Use the settings in the Dashboard to set your preference.
Visual Picture or Snapshot of who was driving the industrial truck during an incident. Accountability is a must in safety in order to lower your facility risk.
Reduce Injury and Worker's Compensation Cost
Your worker's compensation premiums are directly dependent on your past 3 year history of claims. With SIERA S3 you can reduce impacts and get detailed information on risky driving to correct individual behaviors with data-driven forklift operator safety training.
Easily monitor accident prevention data from the SIERA.AI telemetry Dashboard and collaborate with your Workman's Comp provider to lower your premiums.
Forklift access control puts the power of your forklift fleet directly in your hands. Control authorized and unauthorized people from operating the forklift or any industrial vehicle directly from the telemetry Dashboard. With SIERA.AI's forklift lock-out:
Only those with a authorized work badge or unique PIN number will gain access to a forklift
Information will be verified before access is approved
Once the operator gains access to the forklift, it must go through a digital forklift checklist OSHA compliant inspection
Real-time notifications are sent when unauthorized attempts are made, forklift failed inspection, or impacts and near misses exceed approved distances
With the SIERA.AI Dashboard, you can shut down or start up the forklift remotely
Install the S3 on multiple electric vehicles, including…
Capture Lift Truck & Operator Performance
Chart your safety progress in real-time with our Safety Analytics. Get data such as:
OSHA Lift Truck Compliance
How many Incidents were prevented
How Many High, Medium & Low Impacts
Were there any Unauthroized Access? Who, When & Where
Book a Risk-Free Trial
Or Get a Custom Quote
We just need a few details to get you started.