Forklift Safety System: A Ready-to-Go Industrial Engineered Solution
As Forklift Safety Day is only a couple of weeks away, we got a few minutes with Saurav Agarwal, president & CEO of SIERA.AI on the S3 Slow to a Safe Stop System for electric forklifts. Here's what he had to say on taking out the operator reaction time, the cause of accidents, injuries and damage to the facility.
Forkside Chat with Saurav Agarwal, CEO.
Q: Let's get right to it. What is SIERA.AI S3 Slow to a Safe Stop?
Saurav: It is the ultimate in forklift safety. The S3 Slow to a Safe Stop for electric forklifts constantly monitors in one or all 4 directions around the lift truck. If a pedestrian, product or any object gets too close in proximity to the forklift and its operator, it will begin to slow down and come to a safe stop.
Q: How does the S3 know when to slow down?
Saurav: Each customer has its own unique environment. Set the distance to when you want the S3 Slow to a Safe stop to begin 5', 10', 25' etc. We use rings to illustrate this point. In the graphic, if a pedestrian, product or equipment stays within the green boundary, they are safe from harm.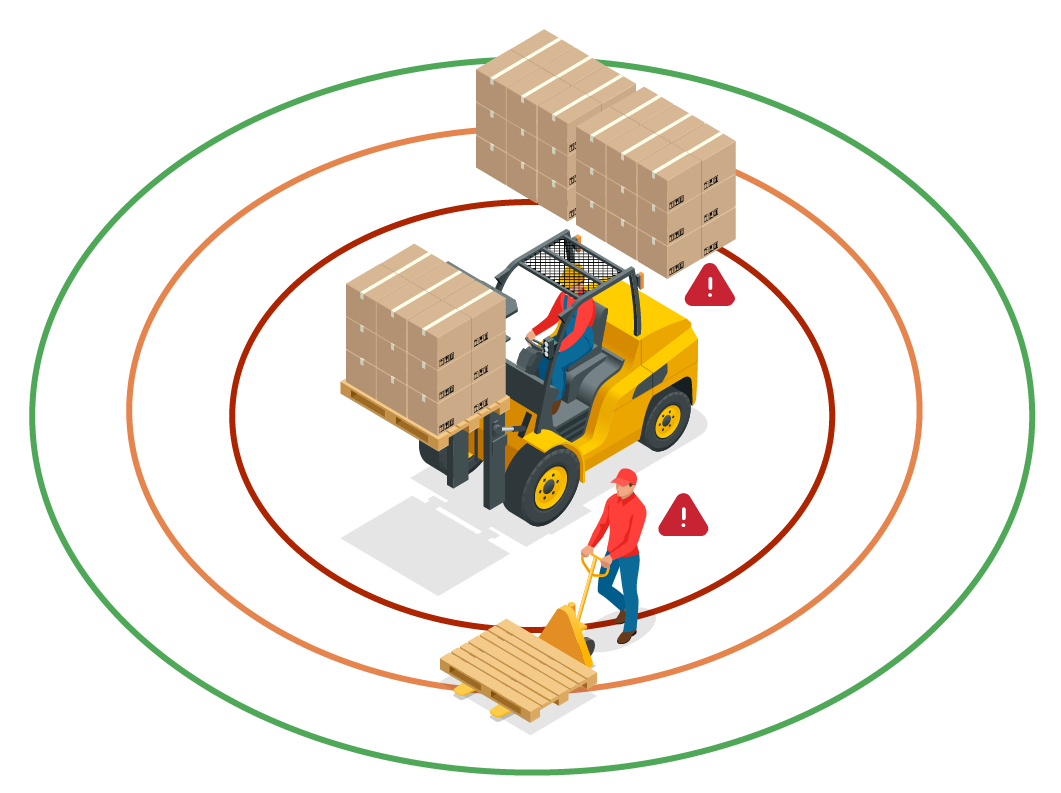 Q: What happens if they cross that line and go into the yellow or red area?
Saurav: If a pedestrian or object crosses into the yellow boundary, the S3 Slow to a Safe Stop sounds an alarm and presents visual cues to allow the operator to react. However, if the operator fails to react or is slow to react as they are busy doing their job, the S3 Slow to a Safe Stop will override the driver and automatically slow down the vehicle so that it can come to a safe stop before an impact.
Q: Override the driver? So that means the driver will have less accidents or avoid running into product or rack?
Saurav: Yes, that is correct. The S3 system is a proactive solution and will react for the driver ensuring the environment stays safe.
Q: I see the rings go all around the forklift. What does that mean?
Saurav: The S3 Slow to a Safe Stop constantly checks in all 4 directions every 60 ms. We always have 'eyes' on what's going on.
Q: The picture shows a sit-down forklift. Does it work on any other electric lift trucks?
Saurav: Yes, S3 Slow to a Safe Stop works on electric sit-down lift trucks and multiple other types including; stand up, center-rider pallet truck, VNA trucks, tugger, order picker and reach trucks.
Q: What manufacturer vehicles does SIERA.AI S3 work on?
Saurav: The S3 Slow to a Safe Stop works on any lift truck manufacturer as it is independent of the lift truck.
Q: Does the S3 Slow to a Safe Stop do anything else?
Saurav:Thank you for asking. Everyone gets excited about automatically slowing the forklift until it comes to a safe stop, it's important to include some of the other safety features of the S3.As we state in the picture, there is an electronic forklift inspection checklist with a touchscreen and mount. This is an automated way to ensure the lift truck remains OSHA compliant.
Q: How does the electronic checklist work on S3?
Saurav: If you have a pre-shift, post-shift checklist to ensure safety of the vehicle, the paper checklist is now transformed into a digital checklist. The benefit of the digital forklift checklist is twofold.
If a forklift inspection fails, the manager, maintenance or anyone will receive immediate notification of the failure. This allows for fast action to take place in order to keep the lift truck operational.
All data points collected are captured into the cloud-based Dashboard where information can be viewed from a fleet of trucks down to an individual lift truck. Now you can get complete control over what's going on within your facility.
Q: You just mentioned a SIERA.AI Dashboard. What is that?
Saurav: SIERA.AI has developed a Dashboard that works with all of our Safety Solutions. It's a cloud-based Dashboard, meaning you can get access 24 x 7 anywhere you happen to be. Anyone with security access can view the information captured from the any of the checklists, information about impacts and how data captured during the slow to a safe stop by location all the way down to a particular lift truck.
Q: It sounds like the SIERA.AI solution is quite comprehensive.
Saurav: Yes, it is. Our goal is to empower those that need the information so they can make the best decisions possible for their employees and the facility.