Forklift Proximity Monitoring vs Telematics: What is the Difference?
Logistics and manufacturing operations and safety managers are exploring the use of forklift proximity monitoring vs telematics technology to provide greater visibility and control into the mobile assets in their operations. Since there are multiple forklift IoT and safety technologies in the market today, it may still be a little confusing which one is best to use. Today, we're going to focus on one aspect of the technology, forklift proximity monitoring, and how that compares to traditional forklift telematics.
Forklift Proximity Monitoring
Forklift proximity monitoring or proximity warning is the continuous monitoring in a single direction or in all 4 directions around a moving vehicle. Proximity monitoring technology allows the flexibility for the warehouse manager and safety manager to define the safe zones around a vehicle before an audio alarm and visual alert are given to an operator.
Let's define forklift proximity in three different circles.
Green: This is the safe zone. Anything that is outside of the green line or the outer layer is safe from hard. This can be a person, object, racking system or even a wall.
Orange: Orange signifies a warning. You set the distance when you want the visual and audio warnings to begin to sound. Do you want 4', 10', 10"? You have the flexibility to define what is a warning.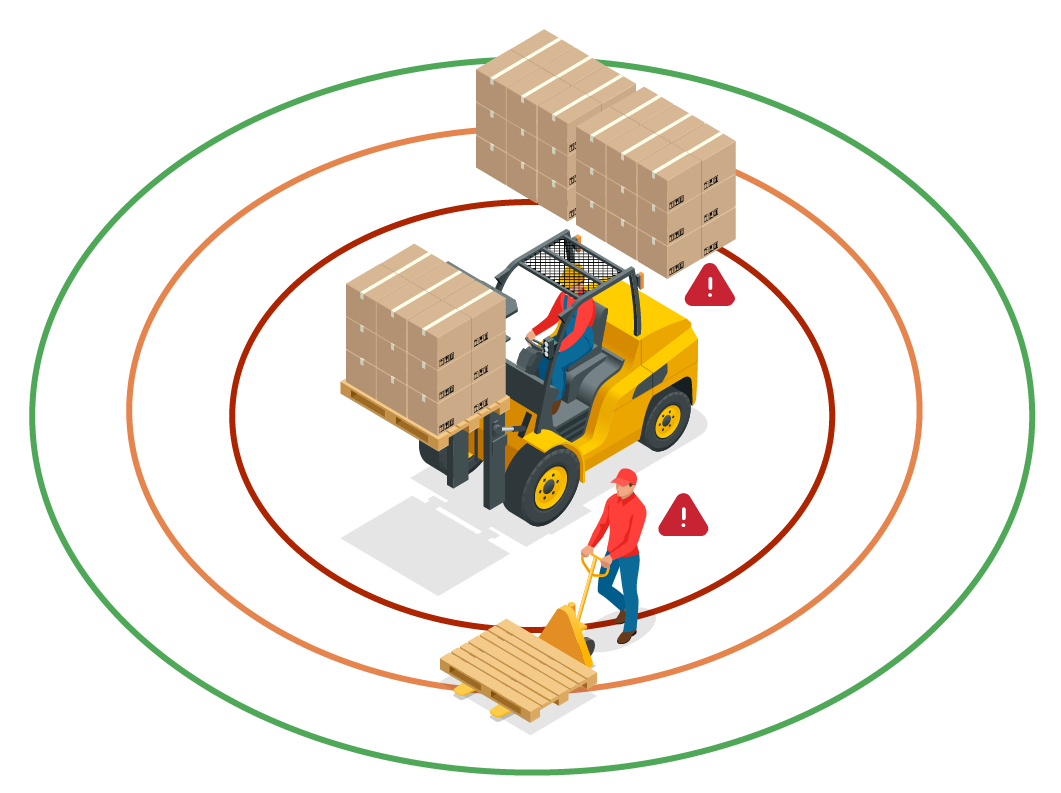 Red: Red is imminent danger. Again, you get to set the distance when you want the visual and audio warning to begin.
Capturing Proximity Data
Smart proximity monitoring technology like SIERA.AI's S3 automatically captures an abundance of information like impacts, near misses and driving behavior and transmits that using WIFI or cellular into a central web-based Dashboard. As a result, you can analyze information on your entire fleet down to a single forklift. This gives you the power to improve safety using data-driven operator coaching.
Forklift Telematics
Traditional forklift telematics solutions can only track limited information from forklifts such as checklists, impacts and some limited vehicle engine data and error codes. Traditional forklift telematics systems are NOT able to prevent accidents and injuries since they only report accidents post fact. Who do they really benefit? The dealer and the OEM, or you?
Forklift Proximity Monitoring vs Telematics: How do you choose?
Proximity Monitoring Can Prevent an Accident Before it Happens
The biggest advantage of proximity monitoring is that it notifies the lift truck operator when they are dangerously close to a pedestrian or obstacle BEFORE an accident occurs… but a telematics system can only record that an accident occurred. As a result, a proximity monitoring solution is able to protect your facilities from injuries and damages.
Telematics Cannot Capture Near Miss and Safety Data
A telematics system does capture data and provide a summary of impacts and inspection failures…however, a telematics system cannot tell you about the countless near misses that happen every day or bring about long-term change in your operational safety. Why? Because people keep making the same mistakes and most managers don't know what to do with the impact data.
How do you get telematics and proximity monitoring in one solution?
SIERA.AI's S3 technology includes digital operator checklists, impact monitoring, and proximity warning along with a centralized data dashboard. The SIERA.AI proximity warning technology is independent of beacons, anchors or any other devices needing to be mounted on racking systems, ceilings, beams etc., for communication. As a result, the S3 is contained within the forklift, and it can go anywhere within one facility or be transferred to another facility…it doesn't matter.
In 2020 alone the SIERA.AI S3 prevented 11,000+ incidents. To learn more about how SIERA.AI's solutions can benefit your forklift operations, download our free 5-Step Forklift Safety Strategy Guide below. It walks you through the exact steps you can take to get the same results as our customers.